All Aglow
All Aglow Quartet got together in July of 2016 and are working hard at their craft – and having a lot of fun in the process! They competed at the regional competition for the first time on May 2019.
Bittersweet
Info coming soon!
Breathless
Singing together for two years, we have put together a nice repertoire of songs, sure to please any group. We sing barbershop style, contemporary and oldies. We also sing holiday music.
It is all A Capella, so no accompaniment needed!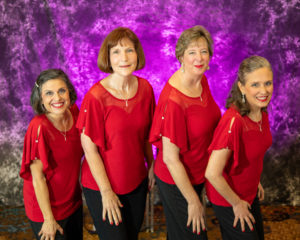 Shelley Egger, Tenor
Christine McLarty, Lead
Sid McColley, Bari
Debbie Johnson, Bass
Contact us at BreathlessQuartet@gmail.com.
Measured
Info coming soon!
The Stevens Sisters
The Stevens Sisters have a combined 100 years of barbershop singing and love to share their affection for music of the 1930s, '40s, and '50s.
(Yes, two pairs of sisters, each pair has one named Stevens. No, the Stevens are not related to each other.)